Durant D'Intino,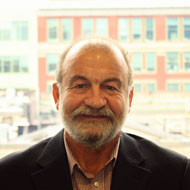 I was born in Italy, grew up in St. Catharines, but have been proud to call London my home since 1970. I'm a proud father of 2 and grandfather of 2. I enjoy playing golf, squash and my favorite pastime is watching my grandchildren play hockey, soccer and dance.

I served on a number of charity committees such as the Make a Wish Charity Golf Tournament and the London Abused Women's Centre Charity Breakfast. In addition, I have served as the Men's Golf Captain and on the Greens Committee at the Highland Golf Club.

I have worked as a life insurance agent for over 30 years, specializing in individual insurance, employee benefits, group RRSPs, IPPs (individual pension plans), and travel insurance. Individual insurance may include life insurance, funding buy-sell agreements between business partners, Personal Disability insurance for self employed individuals, Critical Illness insurance, or Long Term Care (LTC) insurance. Business Owners request my advise when it comes to Employee Group Benefit and RRSP plans as it is integral part of their remuneration package to attract and retain quality employees. IPPs are for business owners and any incorporated individuals, such as doctors and lawyers. An IPP provides the platform for an employer to make the maximum contributions to a registered plan. Finally, whether you're travelling out of province or have family coming to visit, I can assist with any travel insurance related needs.

For the past 3 decades, I've been "Putting the needs of the client first". I would welcome the opportunity to work with you for your personal and business needs.