Michael Smolders,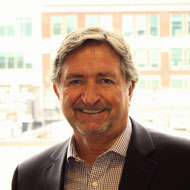 In this hectic world we live in today, we are inundated with information, technology and decision making, yet the important daily responsibilities we have to our job, family and home make it difficult for us to focus and plan for the future. The time required to address life's challenges often just isn't there, and , as a result, we fell anxious, and confused.. we're being pulled in too many different directions.

This is where my job as a financial advisor feels most fulfilling. I deal with financial questions daily. We sit down together and see what the priorities are. We take into account what resources we have to work with.. and map out the essential "How To's" and "What If's". "How To" put a child through university... "How To" have enough money to retire. "What If" I lose my job? "What If" I get sick and can't work? All of these exercises are designed to do one thing... managing the risks in order to financially protect you and your family.

As we meet, I find out who you are, what you want, and what your tolerance to risk is. I then cut through the clutter, help you focus, and put together strategies to get you where you want to go. I help you retain your focus and direction with ongoing monitoring and regular reviews.

The wonderful part of all of this is, a relationship forms, and grows... It's a relationship built on communication, and most importantly, trust. The benefit of the relationship, and the work done can be summer up in one phrase... piece of mind.

By the way, there is another ingredient often found in this whole process and relationship. It's not generally associated with the tedium, of planning... however, when you relieve the pressure, and see that your portfolio is progressing, you can actually experience something hard to find these days... "Fun"!


Investment Funds Advisor for over 14 years
Active member of the business community and the London Chamber of Commerce
Over 37 years of satisfying customer needs
Winner of numerous business achievement awards
Former broadcaster
Studied marketing at UWO and The University of Windsor
Proud father of 2